We only accept first party checks. Please find all the details below.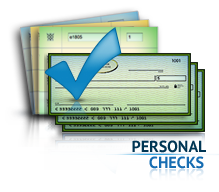 To use personal checks or business checks on pre-paid orders, the name, address, and check number must be pre-printed on the check. Only first party checks will be accepted. All orders paid by personal check are held 15 days pending clearance. If you are mailing your order and need the parts in a hurry, we recommend sending a money order or having your personal check certified before mailing.

Make the check payable to: Classic Industries.