Our emissions compliance program is designed to help our customers determine which Classic Industries sourced products are legal for use on your vehicle, based upon the CARB (California Air Resources Board) requirements.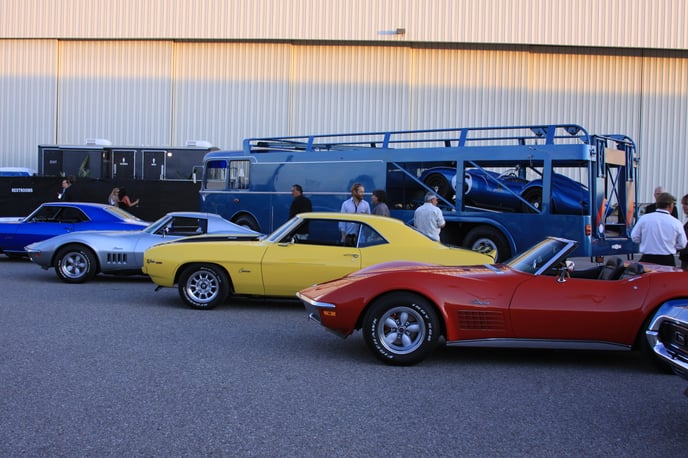 Classic Industries Legal Disclaimer
Classic Industries customers have the important responsibility to use the following four labeled product categories as a guide to making sure that the correct emissions-legal products are purchased and installed on your vehicle(s). Classic Industries is in no way legally responsible for our customer's failure to comply with emissions laws in the U.S..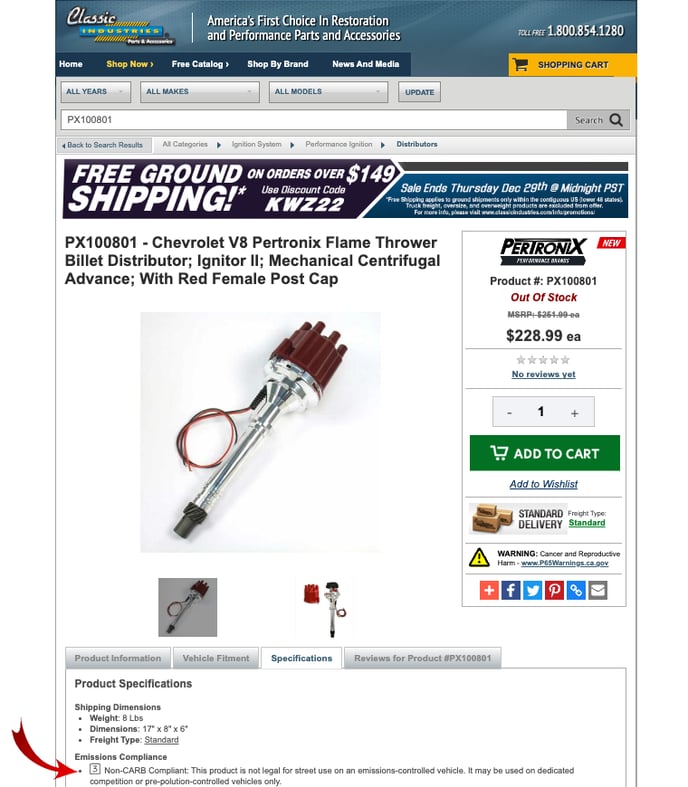 Each product as it relates to Emissions Compliance and California Air Resources Board CARB (California Air Resources Board) requirements, will be labeled with one of the four values below. This information can be found on our Product Detail Page under the Specifications Tab. If a product does not show an Emissions Compliance label designation under the Specifications Tab, this means that the product is a non-emissions related item and does not fall under the rules of Emissions Compliance or CARB (California Air Resources Board).
The four product labeled categories are:
1) CARB EO Compliant (50 States)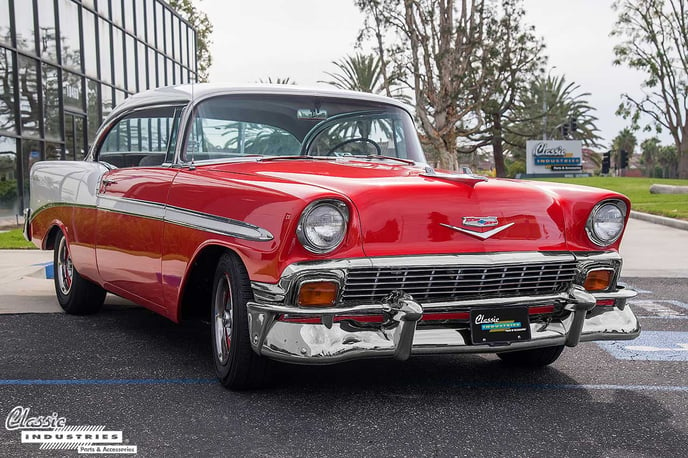 This product is covered under a CARB EO - California Air Resources Board (C.A.R.B.) Executive Order (E.O.) number and is legal for sale and use in all 50 states.
Products that have completed the CARB EO process belong in this category. EPA recognizes the CARB EO as a reasonable basis demonstration, therefore, products can be considered legal by both CARB and EPA.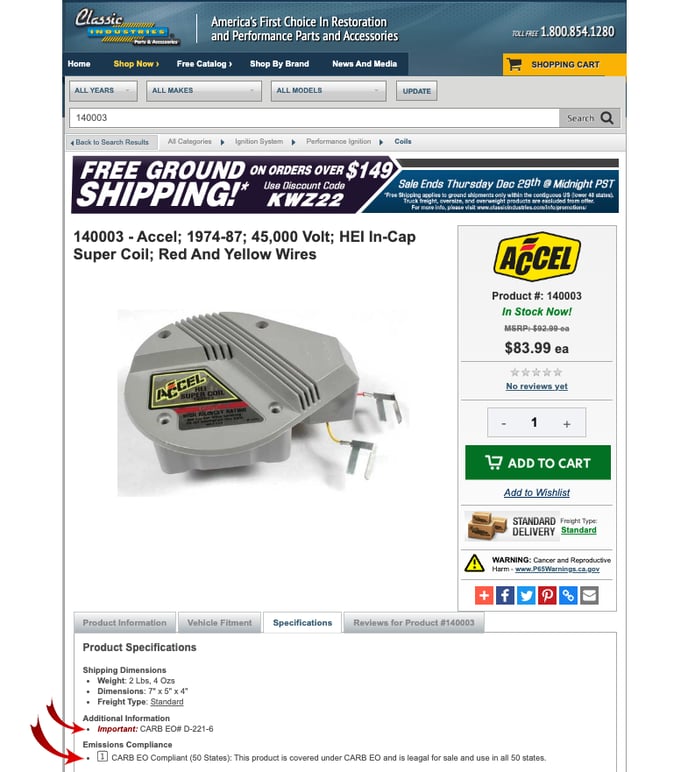 2) Legal In US (Excludes California)
This product is covered under the Emissions certification or has otherwise met the requirements of the EPA's Tampering Policy and is legal for sale in states that do not mandate Executive Order (EO).
Important: California does not allow this product to be installed on emissions-controlled post-1965 vehicles.
This category includes products that have demonstrated a reasonable-basis emissions compliance either through engineering evaluation or testing but do NOT have a CARB EO. There are a few reasons that a product might be in this category, including (but not limited to):
Testing has been completed and paperwork submitted to CARB but the EO has not yet been issued.
The product meets the reasonable basis standard but may not meet CARB's criteria for an EO.
The manufacturer has performed testing but has decided not to pursue a CARB EO.
3) Non-CARB Compliant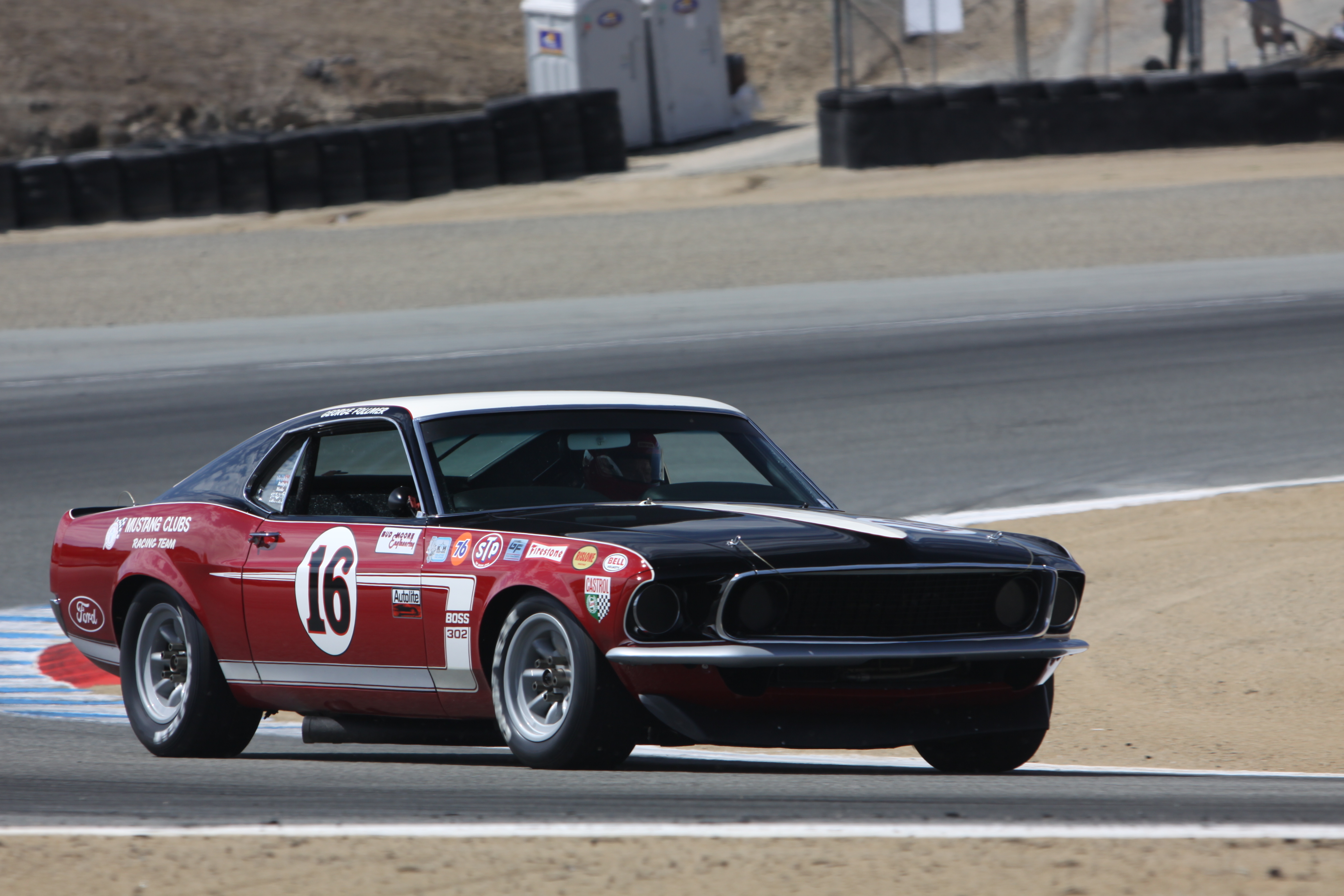 This product is illegal for street use on an emissions-controlled vehicle. It may be used on dedicated competition or pre-pollution-controlled vehicles only.
Some products can never be legal for use on pollution-controlled vehicles (both for use on the road and off-road), but they do have a legitimate use on racing vehicles and vehicles that predate emissions regulations. Pre-certification means 1965 and older domestic vehicles in California, 1968 imports in California, and both domestic and imports under EPA jurisdiction.
4) Non-Emissions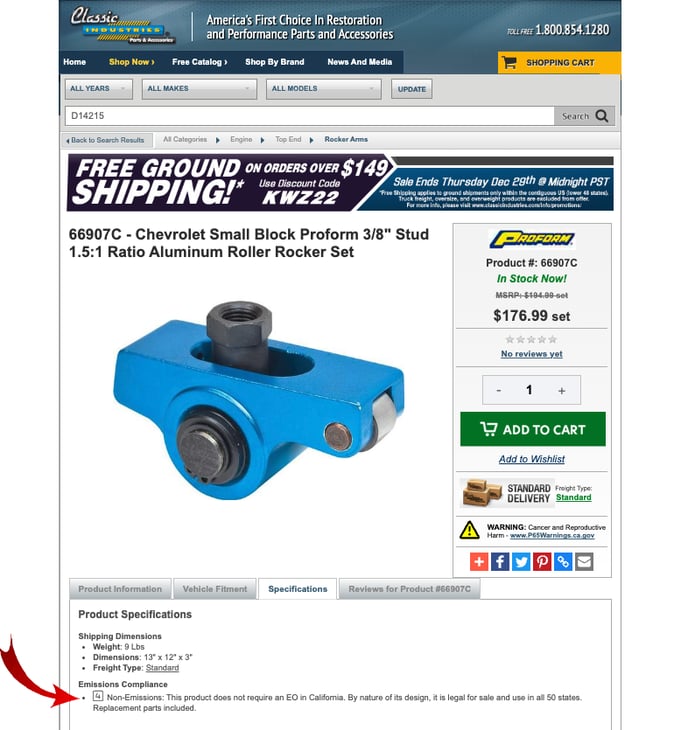 This product does not require an EO in California. By nature of its design, it is legal for sale and use in all 50 states. Replacement parts included.
This category includes products that have little or no impact on emissions, such as drop-in air filters or exhaust components downstream of the last emissions component (such as the catalytic converter, DPF or exhaust gas sensors). Also included are devices that plug into the OBD port to monitor information, but do not alter the vehicle's electronics.
It is the responsibility of the product manufacturer to determine the appropriate category for each product, including validation via testing when appropriate.