Get the answers you need for HushMat Ultra Silver and Ultra Black vehicle insulation products.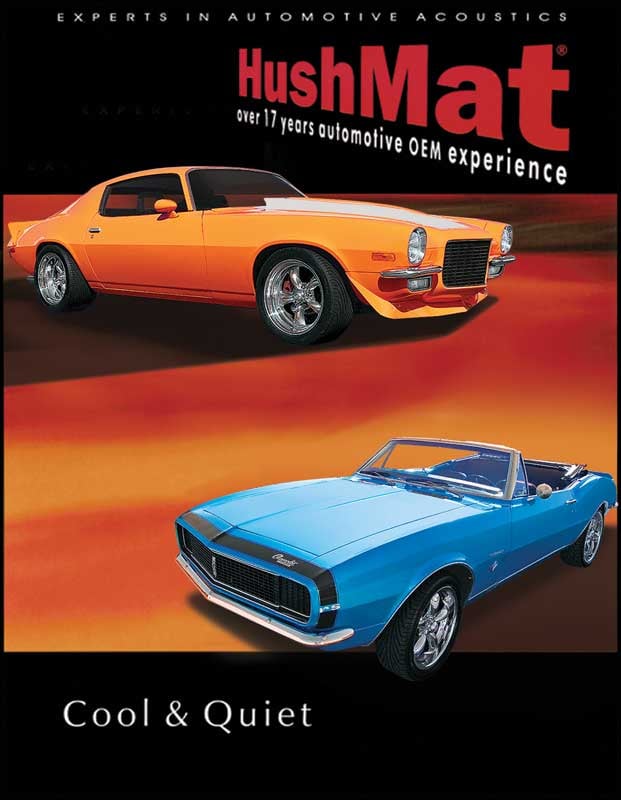 Q: What is HushMat Ultra comprised of?
A: HushMat Ultra is a pressure-sensitive, constrained-layer damper, which has excellent adhesion to many difficult to bond substrates such as oily cold rolled steel, aluminum, steel, fiberglass, automotive coated surfaces, and many plastics including polypropylene. The aluminum foil constraining layer and specially formulated viscoelastic polymer layer combine to give effective vibration damping over a wide temperature range. Ultra is provided in rectangular or square sheets and can be hand-cut for special configurations.
HushMat Ultra is temperature resistant and will maintain adhesion through all automotive bake cycles including 288°C (550 degrees F) over-bake conditions. This allows its application at any stage of the production cycle. It can be applied to both pre-painted and top-coated metal surfaces. It is compatible with automotive coatings and will not contaminate spray operations. HushMat Ultra superior adhesion characteristics provide excellent corrosion resistance.
The superior adhesive properties of HushMat Ultra allow it to be used in horizontal, vertical or inverted applications. It has good conformability and can be applied on complex shapes.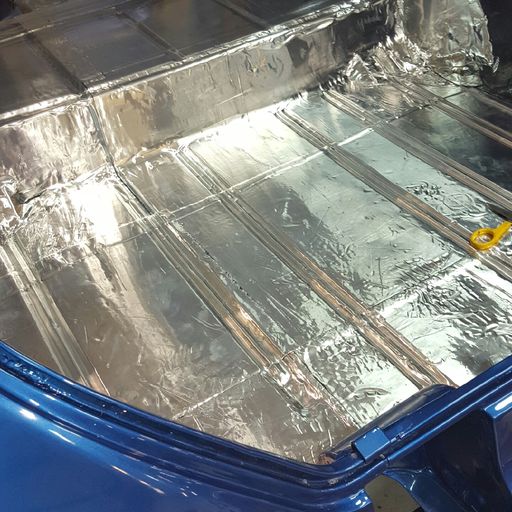 Q: How easy is it to install the HushMat Ultra insulation products?
A: Installing HushMat Ultra is a cut-to-fit, peel, and stick sort of operation. It's regarded by automotive enthusiasts as the easiest sound deadening and insulation product to install.
Q: Where is HushMat Ultra Silver and Ultra Black floor insulation made?
A: These products are manufactured in the United States of America.
Q: How long does it take to install the floor insulation?
A: It installs in ½ the time versus offshore produced brands.
Q: Is the product flexible and lightweight?
A: These heat and noise insulation panels are super flexible and light. They are less than 1/8" thick and weigh less than ½ pound per square foot. You can stick them to the floor or on the walls of any sort of vehicle that you have.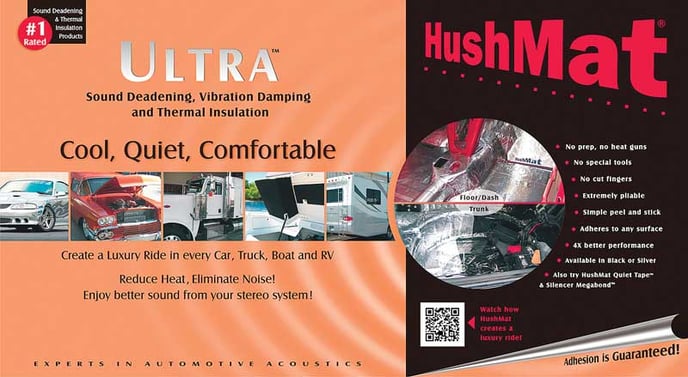 Q: Are any installation or adhesion tools necessary to install the insulation material?
A: The pads are self-adhering, so no glue is needed. No installation tools are required, either. Of course, you will need a razor knife to cut the insulation sheets.
Q: Are HushMat insulation products approved by General Motors, The Ford Motor Company, and Chrysler?
A: HushMat insulation meets or exceeds GM's automotive damping specifications (GM0149M), Ford's (WSB-M5G58-A1), and Chrysler's (MS-CD 629 Type C).
Q: Is it easy to trim this product to fit? What is used to cut HushMat Ultra?
A: You can easily cut the material with household scissors or a standard razor knife.
Q: How do the HushMat Insulation products perform compared to other insulation materials?
A: HushMat Ultra Silver and Ultra Black outperform the closest competitive brand by more than 40%.
Q: Do these products perform well in extreme conditions?
A: They work great from -30 degrees up to 550+ degrees Fahrenheit. In terms of noise abatement, HushMat Ultra effectively treats low frequency, resonant noise from 0 to 1,000 Hz.