Products may be returned for a full refund, credit, or exchange within 45 days of receipt. Returns may be subject to a restocking fee after 45 days.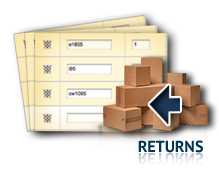 Returns for Exchange or Credit:
Products may be returned for a full refund, credit, or exchange within 45 days of receipt. Returns may be subject to a minimum 25% restocking fee after 45 days. Classic Industries® will not accept returned goods without first obtaining a return authorization number. All returned products must be in the original packaging and in resalable condition when returned. The customer may be responsible for shipping charges on returned merchandise if the products are outside our return period of 45 days.
Initiating a Product Return Is Easy!
Choose your return reason.
Fill in all the required fields for returning a product. Be as detailed as possible.
Upload any images that are relevant to your return so we understand any issues associated with the returned item(s) if applicable.
Click "Submit".
You will receive a confirmation email with a return merchandise authorization number (RMA #) and return instructions.
Or continue reading for additional options and information.
Returns Authorization Instructions:
All returns must be authorized in advance by a Classic Industries customer service representative. Returned products must be in the original packaging and in a resalable condition.
1) Obtain a Return Merchandise Authorization Number (RMA)
Online - Initiate a Return Merchandise Authorization (RMA) online by visiting help.classicindustries.com/returns. Important: Receiving the RMA (return authorization number) is the initial step. A courteous customer service representative will provide further instructions for completing the return process.
Email - Send an email to info-desk@classicindustries.com for a return authorization number (RMA). Please include the original invoice number and product(s) number in question.
Phone - Contact our customer service department during regular business hours toll-free at 1-800-854-1280.
One of our experienced customer service representatives will help you with any questions you may have concerning the items you wish to return. Our customer service hours are 9:00 am to 4:00 pm PST (pacific), Monday through Friday. Our customer service department is closed on weekends and Holidays.
Have an RMA # and are Ready Ship Your Product(s)?
2) Repackage the Products Carefully Before Returning
We highly recommend using the original box to return your merchandise. However, if the original box is damaged or unavailable, use a strong corrugated box to avoid possible freight damage. Use additional packing material to secure the item from movement inside the box. Include a copy of your invoice, and invoice number, along with the return authorization number (RMA). Be sure the merchandise in the box is secured, sealed, and ready to be shipped back to our facility.
Important Information: Classic Industries is not responsible for damaged or lost packages returned by the customer. The customer is responsible for filing a claim with the carrier for any damaged merchandise, or lost packages sent to Classic Industries.
3) Write the Return Authorization Number on the Outside of the Box
This will enable us to expedite the return process for you. Once you receive a return authorization, ship the part(s) to;
Return All Authorized Products to:

Return Merchandise Authorization number

Classic Industries®
Attention: Product Returns Department
18460 Gothard Street
Huntington Beach, CA 92648
(US) 1-800-854-1280

Please write the Return Merchandise Authorization number (RMA #) on the outside of the box. This number will help expedite your return for faster service.
4) Select the Carrier of your Choice (UPS, FedEx, USPS)
Take the package to a carrier of your choice and insure the package for the total value or product(s). Classic Industries® is not responsible for lost or damaged products due to poor packaging.
5) Return Shipping Fees
Upon inspection of the return, you may be eligible for a reimbursement of your shipping costs if the merchandise is found to be defective or was sent incorrectly. Should you choose to use an outside mailing service, be advised that their fees are usually over and above the published standard ground freight fees. You will only be reimbursed for the current published ground rate based on the product's weight. Classic Industries® will calculate the freight fee based on current ground rates (UPS, FedEx, USPS) should a refund for shipping be in order.
That's it, you're all done! We will be in touch once we receive your returned product(s) or if we need additional details.
---
Additional Information Concerning Returned Merchandise
Damaged Goods
Classic Industries® is not responsible for damaged-in-shipment products if no notification is given within 3 working days of receipt of goods.
Classic Industries will file a claim with the carrier in most cases. If the customer files a claim with the carrier, Classic Industries® will not be responsible for replacing damaged products, and the customer will be responsible to pay for any replacements until the carrier pays the claim. Please follow these instructions to avoid any problems or misunderstandings associated with damaged products and freight claims.
When Returning a Product to Classic Industries®
Some products are not eligible for return, credit or exchange such as CD's, videos, printed materials (books and literature), stencil kits, stripe kits, electrical components, gauges, wiring harnesses, switches, and other various products.
Gift Certificates
Gift certificates have no cash value and must be redeemed for merchandise only. To order a gift certificate visit us at www.classicindustries.com/shop/search/?q=gift%20certificates
Special Order Products
Occasionally, customers will request products that are not normal stocking items or were not original equipment on the vehicle. This may include special colors for a custom interior, kits that are specific to a particular vehicle's trim level, engine, or transmission, including other variables that may not be common. These items are considered "special order products" and require a 50% non-refundable deposit. Special order products are non-returnable.
Product Guarantee
There is no guarantee on moving parts such as engines, transmissions, rear ends, steering gears, water pumps, distributors, wiper motors, etc. If any product is modified, altered, painted, installed, or disassembled in any way without Classic Industries® expressed written permission, the item is considered non-returnable.
Professional Installation
Classic Industries® always recommends professional installation on all products. Any item which has been altered, painted, installed, or deemed non-resalable by Classic Industries® will be returned to the customer at the customer's expense.
Labor Fees
Classic Industries® is not responsible or liable for labor fees associated with the installation, removal, modification, painting, or repair of any product purchased regardless of the circumstances. Classic Industries® is not responsible for any damage or discoloration incurred in relation to chemical products being used including cleaners, waxes, polishes, paints, etc.
Important: If there is an error in shipping, or you received the wrong item, contact us immediately so we can correct any issues before any installation or modification take place. If you're shipping parts directly to a body shop, restoration shop, etc., be sure to check the products for accuracy before the installation process begins. Once any product has been installed, painted, or modified, they are no longer returnable.